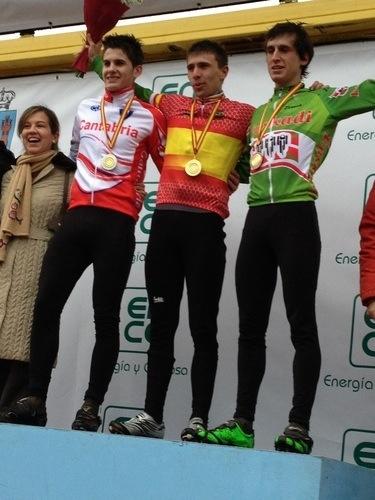 (l-r, Kevin Suárez, Jonathan Lastra, Iñigo Gomez)
Jonathan Lastra (Hirumet-Taldea) rode to victory in the U23 race at the Spanish Cyclocross Championships in Navia, Asturias, holding off Kevin Suárez and fellow Basque Iñigo Gomez. Jon Ander Insausti bounced back from a poor start and tried to catch Gomez on the muddy course but had to settle for 4th in the end.
Lastra was able to dominate the race by wearing down his competition on a muddy and slick course and then riding within himself to victory. Suárez and Iñigo Gomez started the race off with attacks but both eventually fell off the pace set by Lastra. Defending champion Suárez settled into a steady pace, eventually dropping the flagging Gomez, and was riding similar laps to Lastra, albeit 20 seconds down on the Baque rider. Gomez stated post-race that he didn't want to blow up trying to stay with Suárez and concentrated on keeping 3rd place from fellow Basque Jon Ander Insausti, who rode some of his fastest laps at the end of the race.
Euskadi ended up taking 5 places out of the top 10 in the U23 race with Iñigo Gomez' brother Ion riding to 7th place while Peio Goikoetxea finished in 9th place. Lastra capped off an impressive domestic season by sweeping the U23 championships for Spain and Euskadi and the U23 overall Superprestigio crown.
Results
Jonathan Lastra
Kevin Suárez +27"
Iñigo Gomez +1'09"
Jon Ander Insausti +1'15"
Paulo González +1'18"
José Manuel Ribera +1'31"
Ion Gomez +1'50"
Abel Garcia +1'57"
Peio Goikoetxea +2'30"
Marcos Altur +3'14"