Basque hotshot Jon Ander Insausti has made quite a splash on the regional and Spanish amateur circuit this year, racking up a host of wins on different terrain for his Bidelan-Kirolgi team. As a time trial specialist, speedy finisher and gifted climber, not to mention a sub-23 and junior national cyclo-cross champion, the 19-year-old has attracted admiring glances from followers of the Spanish youth scene.
Basque Cycling News
had a chat with Gorka and Ion Izagirre's cousin to find out what's more important, road or mud, and what the future holds for the native of Mutiloa, Gipuzkoa - plus hearing him praise a former Euskaltel DS and one of Naturgas Energía's most promising riders.
Question: First off, congratulations on a fantastic season. Gipuzkoan time trial champion, Euskadi sub-23 time trial champion, stage winner in the Vuelta a Segovia, winner of the Lehendakari-races in Muxika and Antzuola, third in the Subida a Altzo hill time trial... The list goes on. Which win was the most satisfying, and how would you rate your season on a scale from one to ten?
Answer: I would rate my season as an eight. Results-wise it was a very good season, but I haven't been consistent throughout the year. I tried to be competitive in each race, but sometimes my body was just not responding. As for the wins, the one in Muxika was probably the most important one. It was a really hard race with a lot of fighting... it was a fantastic win. In addition, I wasn't feeling so good some weeks ago, so it was important on a mental level to beat quality opposition.
Q: What are you least happy with about your campaign?
A: I had a knee injury in the first part of the season that stalled my progress. I spent more than one month off the bike, so it was hard to return to a competitive level.
Q: We're approaching winter and the cyclo-cross season. Have you made up your mind on which one to focus on, the road or the mud, or will you be doing cyclo-cross this year too?
A: I have been doing both up until this year. I'll do some 'cross races, but with a view to the road. It's hard to be good at both at this level, but I do love cyclo-cross, so I don't want to just be looking on from the outside.
Insausti in the familiar red jersey of his previous team, Seguros Bilbao. Here with the not too unfamiliar Omar Fraile. Photo: www.ciclismosb.com




Q: You rode with Seguros Bilbao before joining Bidelan the past winter. How do the teams differ?
A: I think they're pretty similar. The main difference might be that at Bidelan there are mostly Basques and therefore we know each other well. We've also got a fantastic sports director in (former Euskaltel DS and erstwhile pro cyclist) Jon Odriozola. He looks after all his riders amazingly well, and he spends all day trying to figure out how we can achieve the best results.
Q: Will you be staying on with Bidelan next year?
A: Yeah, for the moment I will.
Q:
As one of the most promising sub-23 Basques around, has there been any contact from the Fundación Euskadi/Orbea? Has Madariaga/Arberas/Gerrikagoitia ever got in touch?
A: Not in person. I haven't had any kind of contact with either of them. Not with (Orbea DS Aritz) Arberas, not with 'Gerri' and not with Madariaga either. I've heard this and that, but nothing official. I've never spoken face to face with any of them.
Q: Are Orbea and Euskaltel teams you would be interested in riding for?
A: Of course, Orbea and Euskaltel are teams I dream to ride for. I feel 100 percent Basque and love those teams.
Q:
Speaking of Euskaltel, what do you make of the team's change in philosophy and its decision to release Txurruka and Velasco?
A:
It's a complex situation. With the UCI's current points system it's difficult to have teams with Euskaltel Euskadi's philosophy. If they continue with exclusively Basque riders they won't be in the WorldTour, so they might miss out on key races like the Tour de France, the Giro d'Italia and the Ardennes Classics. If they want to stay in the WorldTour... then they've got to make tough calls like this. It's sad, but it is what it is.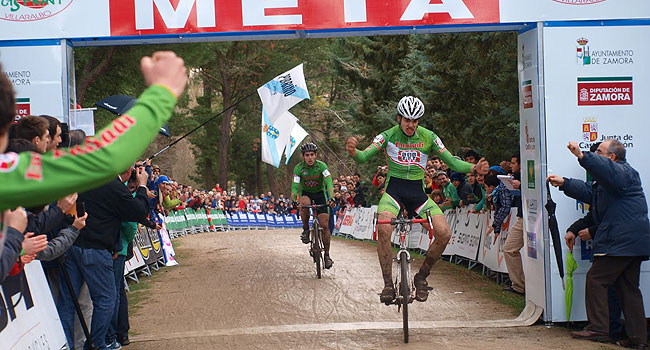 Insausti excels on more than the road. Here he's crowned Spanish sub-23 cyclo-cross champion of 2011 in Berriz. Photo: www.bhbikes.com
Q: On a different topic, do you combine riding with studies?
A:
Yeah. I'm studying physical education in Donostia (San Sebastián). I study in the mornings and train in the afternoons.
Q: Who's the best rider you've ever competed against/with?
A: F
or me, the best rider in the peloton is Loïc Chetout (Naturgas Energía). He can become a great rider. When I look at him, I'm always thinking: "Shit, he is really good!".
Q: Who are your biggest heroes in cycling?
A:
I've always been a fan of Jan Ullrich and Lance Armstrong. They were enemies on the road, but I always enjoyed watching them. The fights they had and those attacks! They were the best.
Q: Besides cycling, what other sports interest you?
A:
I love doing sports. I love to play
pelota
and football, and I also like downhill riding and mountain biking.
Q: Finally, a question that might be a bit harder to answer. I seem to recall reading in
El Diario Vasco
this June that "Insausti seems to be on the right track after injuries, personal problems and a certain vagueness about his relationship with cycling". Is that something you would comment on?
A: Jajaja, no problem. The thing is that, earlier, I was trying to figure out what to do. I had some problems with choosing between road or cyclo-cross. In addition, last year, I had some trouble with my studies and lost a lot of time. I performed really badly in the first part of the year and lost my motivation. Now I think I have the right people around me and can take the right path!
Photo: www.etxeondo.com