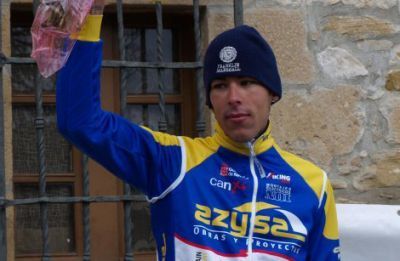 Having won the grand total of 21 races on the amateur circuit in 2012, Arkaitz Durán thought, and probably rightly so, that returning to the WorldTour wouldn't be all that hard. However, late in November he's still to settle on a team for next year.
Not that suitors haven't come in for the 26-year-old
, but they're not quite what he expected. The Azysa-Telco'm-Conor rider feels his performances this year merit a return to the big league, but neither Movistar, Euskaltel nor Caja Rural had place for the former boy wonder.
"We know that cycling's in a state of crisis, but I've done enough to get a place on a Spanish team", he told Gara. "This year our handicap was the points - that system closed a lot on doors on me. I thought I'd easily find a team with 21 triumphs, but at the moment that hasn't happened. I have options to turn pro, though. I'm waiting for a few teams and I can't say more before I sign".
Euskaltel's non-interest in Durán has been the subject of much debate over the years, and likely boils down to the fact that former Euskaltel head Miguel Madariaga had his differences with the rider. With a change in team management, though, things appear to have changed - not that it helped Durán much eventually.
"Initially, Igor (González de Galdeano) wanted to talk to me. He evaluated his options, me included, and decided to go for something else. There was also a time when Movistar seemed interested and it was revealed I'd signed for them, but at no time was there ever anything on the table and it hurt me that it ended like that".
The Vitoria-native is reportedly close to inking a deal with Portuguese Continental outfit Efapel.
Photo: Bikezona