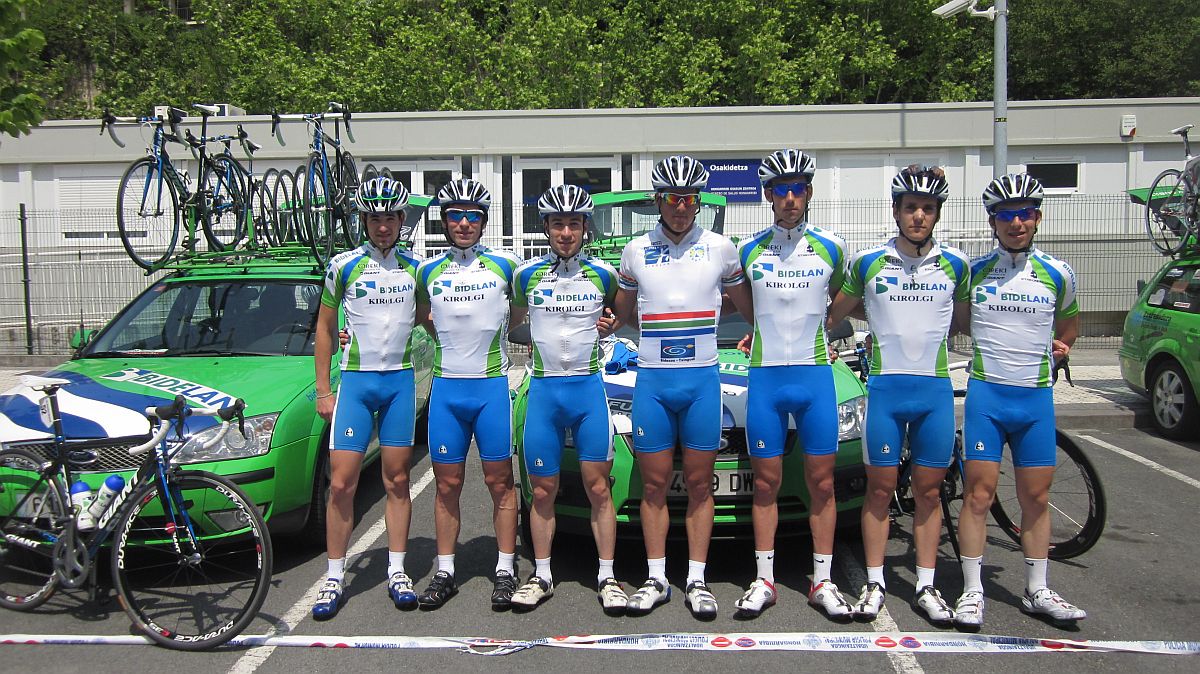 Bidelan-Kirolgi lay down the law in Zegama today as Markel Antón won and the outfit placed four riders in the top five.
The race of the Torneo Euskaldun series, a series open to both sub23 and elite riders, was a rather uninspiring one, if the Basque Federation's report is to be believed, as meaningful breaks were far and few between over the 117,4km course. The Alto de Liernia, tackled three times, didn't turn out to be as pivotal as one would have expected, as the race kept coming back together on the descents.
In the end, 23-year-old Antón of Zalla, Vizcaya, got a small gap on the pack along with team-mate Alejandro Cobo and José Manuel Gutiérrez of Gomur Cantabria, and the trio divided the podium spots between them. Former Seguros Bilbao prodigy Antón claimed his maiden win of the season, pipping the Gomur rider to the line (who was second at this race in 2011 as well). 24-year-old Unai Iparragirre, who excels both on the track and in the sprint finishes, brought home the pack four seconds later ahead of exciting 19-year-old team-mate Jon Ander Insausti. Insausti, who's equally adept at racing slightly knobbier tires in the mud, is coming off a stellar year, and edged out fellow cyclo-cross specialist Jonathan Lastra for fifth.
Up on Wednesday is another Euskaldun-race in Lakuntza, taken out last year by Caja Rural's Polish 22-year-old Karol Domagalski.
Naturgas Energía and Azysa-Telco'm-Conor WRC, who hold the top three spots in the series overall through Borja Abásolo, Mike Terpstra and Arkaitz Durán, did not field squads at the race that is officially known as the LXXXI San Bartolomé Saria de Zegama.
Results:
1, Markel Antón (Bidelan-Kirolgi), 3:01:26
2, José Manuel Gutiérrez (Gomur Cantabria), s.t.
3, Alejandro Cobo (Bidelan-Kirolgi), s.t.
4, Unai Iparragirre (Bidelan-Kirolgi), 0:04
5, Jon Ander Insausti (Bidelan-Kirolgi), s.t.
6, Jonathan Lastra (Hirumet Taldea), s.t.
7, Mario Gutiérrez (CAI), s.t.
8, Unai Elorriaga (Cespa), s.t.
9, Julen Mitxelena (Bidelan-Kirolgi), s.t.
10, Iván González (Lizarte), s.t.
Photo: www.diegoweb.com