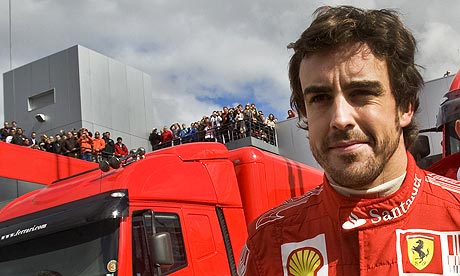 Euskaltel Euskadi have confirmed rumours that Formula 1 star Fernando Alonso has decided to purchase the team's license and take over the team.
Alonso, who's an avid cycling fan and no bad rider himself, was last week successful in convincing his personal sponsors to come up with the six million euro needed to by the license from the team's holding company Basque Cycling Pro Team. Rumours only surfaced about a deal being reached between the two parties early on Monday morning, but only a few hours later both Alonso and the team had confirmed the deal.
The rumour going the rounds this weekend was actually that Catalan banking group Sabadell was ready to step in to save the team, but in the end it turns out that the Formula 1 celebrity will be the owner for the next few years.
For how many, though, has not been disclosed.
Alonso hails from the Asturias region in northern Spain and will run the team from Samuel Sánchez's home region. Alonso is of course a long-time friend of the Euskaltel rider - as well as of Alberto Contador. 'Samu' and Alonso are known to be occasional training partners, and the latter has for several years flirted with the idea of running his own team.
BiciCiclismo
claim Igor González de Galdeano is likely to lead the team in much the same way he's done at Euskaltel Euskadi, and the team will as usual be based around Sánchez, Igor Antón, Mikel Nieve and the Izagirre brothers. All 14 riders with contracts in place for next year will reportedly form part of the 'new' team.
As of now, there's been no word on whether the riders with contracts expiring this year will stay on or not. Nor has a name for the team been released. Telephone company Euskaltel will not fund the team in any way.
"Enthusiasm, seriousness, sacrifice, evolution and transparency are the words on which this team will build its foundations", Alonso's press release reads. "Alonso is thrilled to be forming an active part in cycling and to be able to improve the image of this sport. Transparency and zero tolerance will therefore be fundamental pillars on which the foundations will be laid for this exciting sports project.
"After various days of intense negotiations between both parties, carried out with maximum discretion, we are pleased to announce that the Spanish athlete has reached an initial agreement to buy Euskaltel Euskadi and so avoid its demise".
More on this subject as news come through
Photo: The Guardian